Alfatech Technical Design
Case Study: Alfatech Technical Design Sdn. Bhd. - ZW3D All in One CAD/CAM Solution
At Alfatech Technical Design Sdn Bhd established in June 1999 is offering niche solutions for the electronics and PCB industry. They design & manufacture jigs & fixtures for every process, from PCB assembly through board inspection and test operations.
Requirement & challenges:
They were using 2D ACAD software to do their design and manual CNC programming to do their fabrication
They can only handle 2 axis machining even though their CNC machine can support up to 3 Axis machining. They will out-source their programming to external source to do, hence, affected their quality and productivity
Choosing ZW3D:
All in one CAD/CAM software
Easy to learn and use. They attended 4 days CAD/CAM training and since then, they have used the solution to do their jigs design
It's very affordable since they are maintaining one system
Benefit:
Ever since they have chosen ZW3D as their solution, it has increased their productivity and efficiency
With the 3D view, they are able to convince their customer and sell their design more effectively
Besides that, they are able to do more complex design
Testimonial from Alfatech:
"Firstly, we're a small, local company with limited resources and budget, so our choice has to be cost-effective. Secondly, ZW3D doesn't skimp on performance; it has all the tools we needed, from modification > design > machining! And finally, ZWSOFT is very supportive of what we planned to do."
Sebastian Choo, Director
Alfatech Technical Design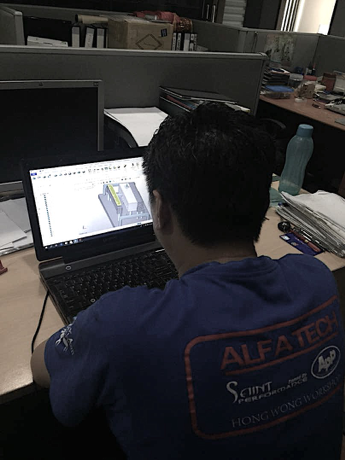 Found above case study similar to your challenges?
We at DTS can help! Speak to our Representative.
With more than 15 years of experience in PLM solution, our consultants and engineers are equipped with great skills and knowledge and ready to help.