ZW3D for Manufacturing

Intelligent 2-Axis Milling
Hole & 2-Axis Tactics can help generate manufacturable toolpaths automatically, reducing programming time by 70%.
Productive 3-Axis Milling
• More than 40 different machining processes are available to aid effective machining, allowing you to handle a wide range of industrial tasks with ease.
• Desired toolpaths, including undercut toolpaths, can be simply created on Nurbs or STL geometry.
Advanced 4-Axis and 5-Axis Milling
• 5-axis milling is able to function with STL files and provides a complete solution for indexing and 4 to 5-axis machining.
• Swarf, Drive Curve, Drive Surface, Flow Cut, Side Cut, and Point Control are all available to increase machining capabilities for a spectrum of uses.
Reliable Verification and Simulation
A variety of verification and simulation techniques are provided to guarantee that machining is possible, dependable, and safe.
• Solid Verify could be used to mimic and analyse the actual machining process, resulting in reliable and efficient machining.
• Collisions and gouges between tools and stocks, tables, clamps, and other objects can be detected using analysis functions.
• Calculation of the minimal tool with accuracy.
Easy-to-Customize Post Processor
ZW3D Post offers advanced post-processing capabilities to convert cutter location data (APT-CL) into machine-specific codes (GM codes) required by CNC machines. All classes of 3 to 5-axis milling machines are supported.
Features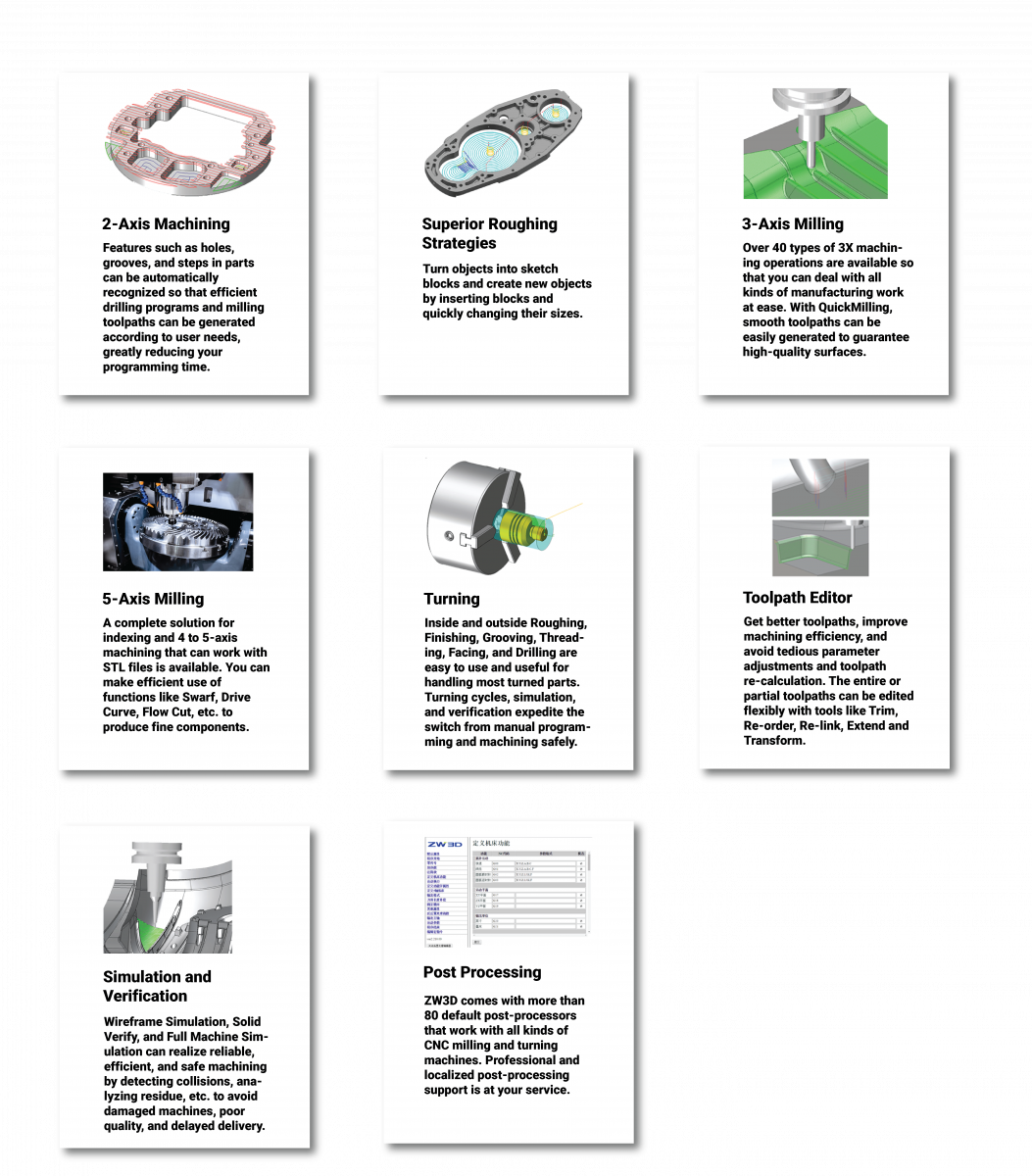 Need help with ZW3D for Manufacturing?
DTS is the authorized partner of ZWSOFT in Singapore & Malaysia.
Speak to our representative!
With more than 15 years of experience in PLM solution, our consultants and engineers are equipped with great skills and knowledge and ready to help.
---
Case Studies of ZW3D for Manufacturing