FreeScan UE Laser Handheld 3D Scanner

Wireless Laser Handheld 3D Scanner
FreeScan UE Laser Handheld 3D Scanner
Speaking of "high precision" and "stable repeatability", FreeScan UE is the blue laser handheld 3D scanner with its ergonomic and lightweight equipment design. It is easier to hold and operate, providing metrology-grade, high-precision inspection solutions for the automotive, transportation, aerospace industry, moulding inspection, energy generation, machinery manufacturing and etc.

Product Features
Metrology-class high precision





Accuracy up to 0.02mm, Volumetric accuracy 0.02mm+0.04mm/m.
Stability of repetitive measurement

FreeScan UE delivers consistent results, stability and reliability while measuring the same workpiece repeatedly.
Portable and lightweighted




Device Weights : 670g

Facilitating handheld scanning more easily and avoiding fatigue due to long working time.
Wide range of material adaptions





Supporting the scan of black and reflective surfaces to accommodate a wider range of scanning applications.
High efficiency





The scan area can reach 510*520mm, providing larger field of view for a smoother and more efficient scanning experience.
Easy operation





User-friendly operating system with simple software setup and guidance through the whole workflow process, allowing users to master the operation at ease.
Seamless docking to inspection software





The scan data can be imported into inspection softwares like Geomagic Control X, Verisurf Inspect and Einsense Q with one click, increasing the inspection efficiency.

Specification
---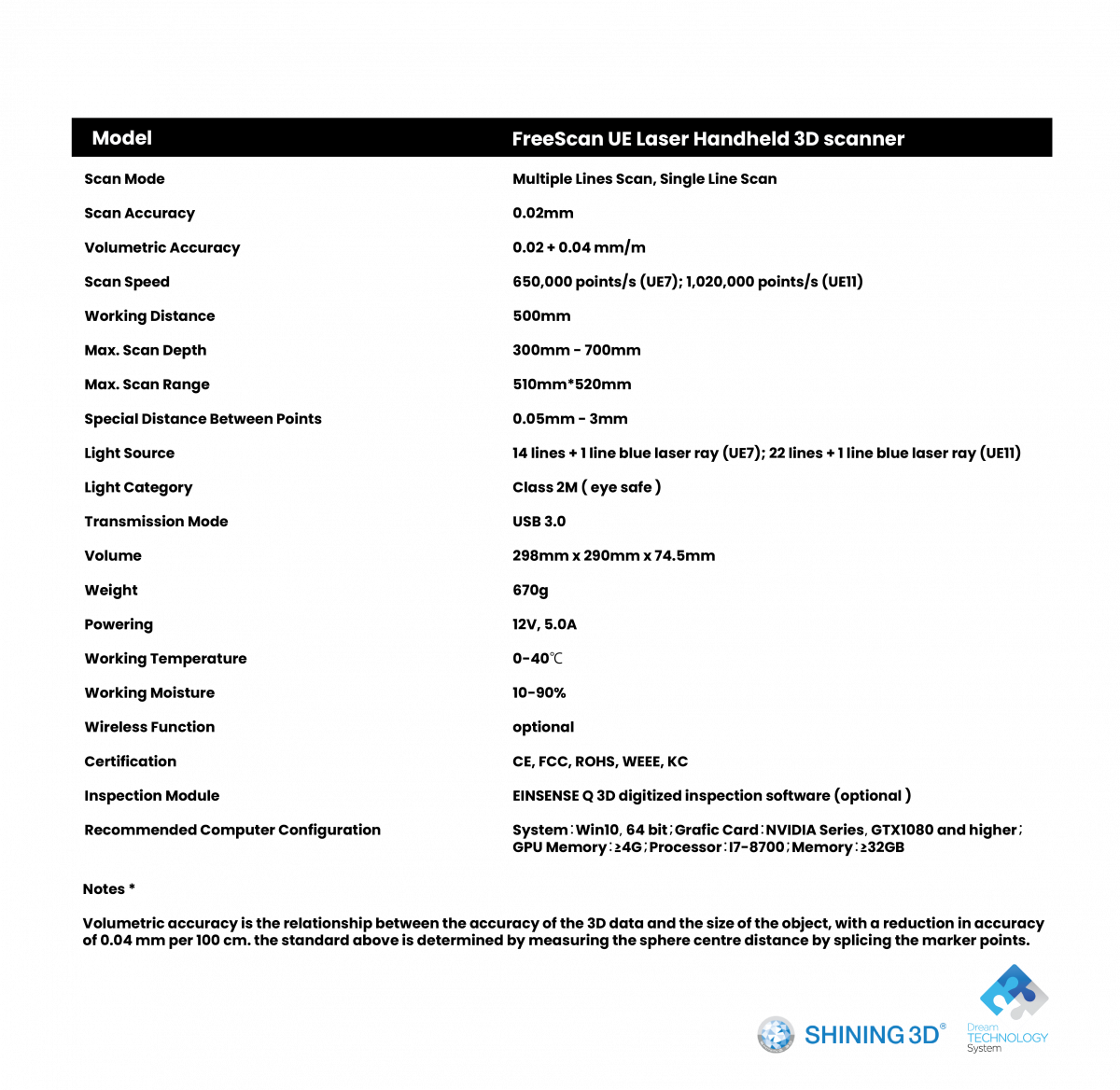 ---
Need help with FreeScan UE Laser Handheld 3D Scanner?
DTS is the authorized partner of Shining 3D in Singapore & Malaysia.
Speak to our representative!
With more than 15 years of experience in PLM solution, our consultants and engineers are equipped with great skills and knowledge and ready to help.