OptimScan 3M/5M

High End Industry Inspection
Newest blue light 3D scanner in the market
OptimScan 3D scanner features a high-end outlook, structure, component and configuration. Its 5.0 mega pixel cameras and blue light scanning technology bring users amazing scanning speed and accuracy. Making this 3D scanner suited for high-end applications like defense, aerospace, mould industry and more.
---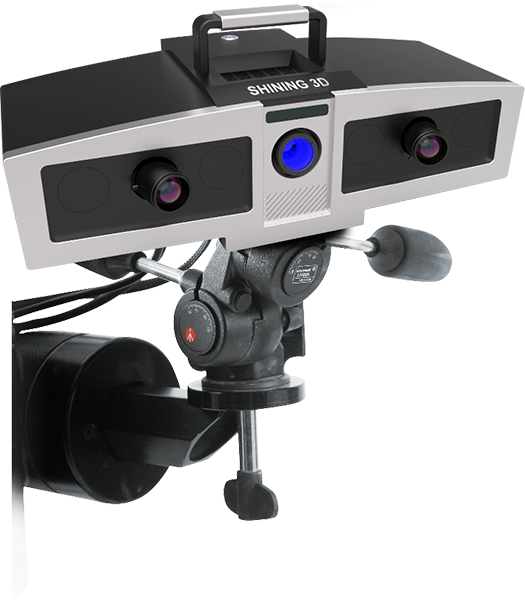 Reliable and Portable
Blue Light Scanning Technology, technology that enables you to scan more kinds of objects with dark color feature or metallic materials.
Higher resolution with accuracy up to 0.007mm
Adjustable Scan Ranges, from 400mm x 300mm to 100mm x 75mm
---
OptimScan 3M / 5M Specifications
Model
OptimScan-3M
OptimScan-5M
Single Shot Accuracy
0.007-0.025 mm
0.005-0.015 mm
Volume Accuracy
0.1 mm/m
0.08 mm/m
Single Scan Speed
< 2.0 s
< 1.5 s
Point Distance
0.048-0.192 mm
0.04-0.16 mm
Single Scan Range
100x 75 mm /200×150 mm / 400×300 mm
Scan Depth
100-400 mm
Camera Resolution
3.0 MPx2
5.0 MPx2
Light Source
Blue light ( LED )
Scan Type
Non-contact structure light scanning
Alignment
Markers auto-alignment /manual alignment
Output Data Format
ASC, STL, PLY, RGE, P3, PF
PC Configuration Requirement
CPU: Intel core i7 3770 or better
Display card: NVIDIA GeForce GT 670 or better Memory : 8G DDR3 1600 or be忧er
OS System Support
win10 64bit
Operation Temperature
0 – 45 °C
---
Need help with OptimScan 3M/5M?
DTS is the authorized partner of Shining 3D in Singapore & Malaysia.
Speak to our representative!
With more than 15 years of experience in PLM solution, our consultants and engineers are equipped with great skills and knowledge and ready to help.
---
Case Studies of OptimScan 3M/5M