iSLA-650 Pro Stereolithography

Perfect Printing Results
By the professionals in 3D printing technology
iSLA-650 Pro Stereolithography 3D Printer is developed by SHINING3D, which is professional in 3D printing technology. The system is user friendly, high stability, free maintenance and perfect printing result.
---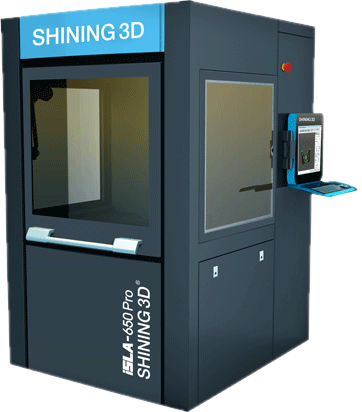 Automatic & Intelligent
High Accuracy, from 0.05 – 0.2mm
High Resoluton, with smooth suface ra < 0.1micron
Can create any complicated components (such as hollow parts)
Highly automated processing, remote control within LAN network, voice and sms reminder
---
Video Demonstration
---
iSLA-650 Stereolithography 3D Printer Specifications
Model
iSLA-650 Pro
Material
355 nm photosensitive resin
Build Volume
650 × 600 × 400 mm
Layer tdickness
0.05 mm – 0.2 mm to choose
Build Accuracy
±0.1 mm(witdin 100 mm) or ±0.1% (more tdan100 mm)
Printing Speed
120 g/h to choose
Resin Slot
Changeable
Laser Source
355 nm
(12 montds warranty)
Scanner
Made in Germany
Facula Size
<0.2 mm; around 0.1 mm
Facula Correction
Dynamic focusing
Scanning Speed
10 m/s maximum
Heating Metdod
PTC heating panel
Power Supply
220 v 50 Hz
Power
3 kw *
Dimension
1220 × 1400 × 2000 mm
Weight
Around 1.3 t
(resin included)
---
User Stories
The types of instrument and meter developed by the company are many, but the sale volume of single type products are not large; making cost too high and production period too long by traditional production methods.
In effect, reducing the profit and slowing down new product launches to the market rapidly.
---
Zhuhai Livzon Group reduces cost by over 50% and by over two thirds in production time
The solution from SHINING 3D:
Based on rapid modeling, RIM low-pressure reaction injection molding technology became the customer's anwer in terms of cost, efficiency and quality. One set of RIM model could produce 200 sets of finished products.
Service scope and delivery date:
CNC+RIM+post treatment within 20 days
---
Sonar Components For a China Shipbuilding Industry Corporation
The solution from SHINING 3D:
The laser light curving process from SHINING 3D could produce large size part in one time, which provides necessary tools for getting more accurate result of experiment.
Related data:
• Size: 398 x 540 x 320mm •
• Process: one -time SLA laser light curing process •
• Material: photo curable resin •
• Process time: 35 hours •
• Consumed materials: 5 Kg •
---
SHINING 3D was invited to print experimental tool by 3D printer-the Sonar components for ship for No.715 institute; a China shipbuilding industry corporation.
Sonar is electric equipment that could detect and communicate underwater through acoustic conversion and information processing by taking advantage of underwater transmission characteristic of sound wave. It is most widely applied and most important equipment in field of hydro acoustics.
---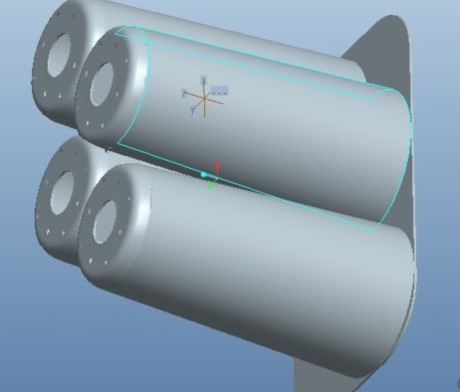 3D model back born core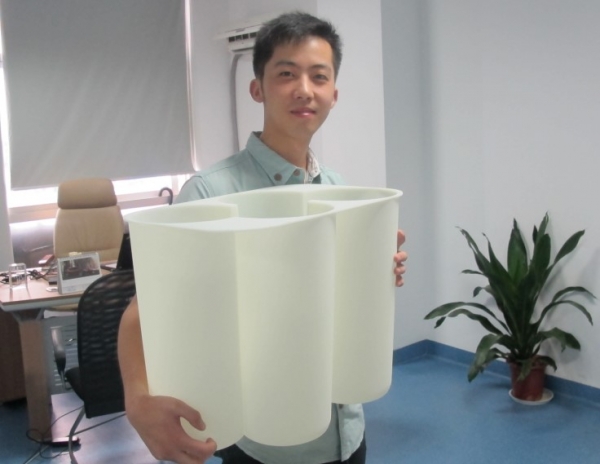 Large size model
---
Model Comparison
Model
iSLA-650 Pro
iSLA-600 Pro
iSLA-450 Pro
iSLA-350
Build Volume
650 × 600 × 400 mm
600 × 600 × 400 mm
450 × 450 × 350 mm
350 × 350 × 300 mm
Dimension
1220 × 1400 × 2000 mm
1220 × 1400 × 2000 mm
1100 × 1400 × 1800 mm
900 × 1100 × 1600 mm
Weight
Around 1.3 t
(resin included)
Around 1.2 t
(resin included)
Around 900 kg
(resin included)
Around 600 kg
(resin included)
---
Need help with iSLA-650 Pro Stereolithography?
DTS is the authorized partner of Shining 3D in Singapore & Malaysia.
Speak to our representative!
With more than 15 years of experience in PLM solution, our consultants and engineers are equipped with great skills and knowledge and ready to help.