EP-C5050 SLS Wax / Sand Mold

Laser Sintering Technology
Combined with casting technology
EP-C5050 adopts laser sintering technology, and uses resin sand and disappearable fired mold as moulding materials. Combined with casting technology, EP-C5050 has large forming space and can rapidly cast the parts with complex structure, like engine cylinder block, cylinder head, turbine, impeller and more.
---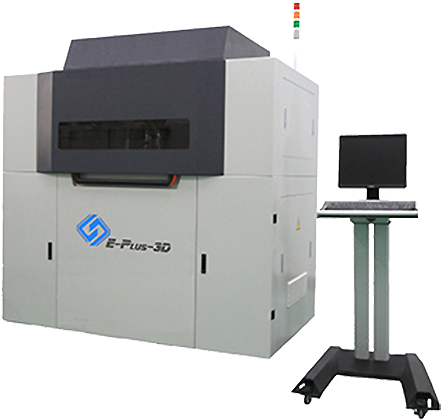 Large Forming Space
Large Forming Space, the size of 500mm*500mm*500mm, therefore, regular size parts can be made and subsequent aligning is no needed.
Remote control and diagnosis via phone,
Reliable performance, optimizes the round roll powder laying system with high stability
Not only 3D print various kinds of plastic samples, but make wax mould and sand mould for casting. Perfectly combined with traditional foundry industry, EP-C3650 realizes the coremaking without using mould and greatly reduces the R&D and trial-producing time for casting parts in different industries.
Users can change for more kinds of powder and adjust the properties like strength, details and appearance
---
EP-C5050 and EP-C3650 SLS Wax / Sand Mold 3D Printer Specifications
Model
EP-C5050
EP-C3650
Material
PS, resin sand, TPU, etc.
Build Volume
500 x 500 x 500 mm
360 x 360 x 500 mm
Layer Thickness
0.15 mm (0.04-0.3 mm to choose)
Build Accuracy
± 0.15 mm (part size≤100 mm),
± 0.15% (part size ≥100 mm)
Material Feed Mode
Automatic loading,
Bi-directional powder feeding
Bi-directional powder feeding
Laser Power
CO2 laser, 55 w
Scanning System
Dynamic scanning focus
Scanning Speed
6 m/s ( max )
5 m/s (max)
Control Software
Eplus 3D printing software
OS System Support
Windows 7
Power Supply
380 v, 50 Hz, 3-phase
Output Data Format
STL or other convertible file
Dimension
1960 x 1300 x 2300 mm ( L x W x H )
2500 x 1300 x 2200 mm ( L x W x H )
Machine Weight
1350 kg
1300 kg
Work Temperature
15-30 °C
---
Need help with EP-C5050 SLS Wax / Sand Mold?
DTS is the authorized partner of Shining 3D in Singapore & Malaysia.
Speak to our representative!
With more than 15 years of experience in PLM solution, our consultants and engineers are equipped with great skills and knowledge and ready to help.