EinScan-Pro

Mullti-Functional Handheld 3D Scanner
Capture real word data to convert into digital 3D models
The EinScan-Pro is your best 3D scanner choice. It can be used for consumer and commercial applications in manufacturing, engineering, design, development, testing, artwork archival, animation and even human form acquisition. The EinScan-Pro 3D scanner allows you to use physical objects to better conceptualize an idea or create a starting point for modeling in CAD (Computer Aided Design).
---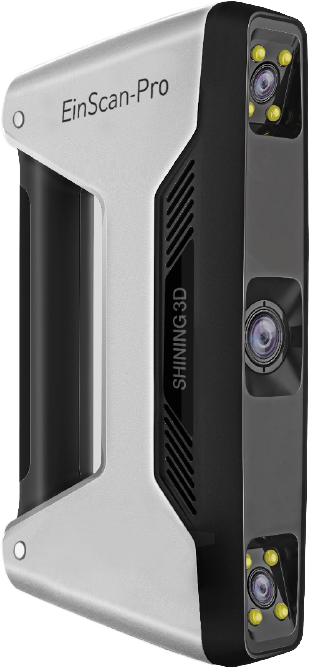 No Scan Limits
The cost effective entry level handheld 3D scanner
Four mode scanning versatility
Full Color Scan
Compatible with most 3rd party hardware and software
---
EinScan-Pro Specifications
Model
EinScan-Pro
Scan Mode
Handheld HD Scan
Handheld Rapid Scan
Automatic Scan
Fixed Scan
Single Shot Accuracy
0.1 mm
0.3 mm
0.05 mm‪
0.05 mm
Scan Speed
90,000 points/sec
550,000 points/sec
Single scan: < 2 s
Single scan: < 2 s
Point distance
0.2 – 2 mm
0.5 – 2 mm
0.16 mm
0.16 mm
Recommended Size of Scanned Object
30-4000 mm
150-4000 mm
30-150 mm
30-4000 mm
Align mode
Markers
Feature, Markers (Optional)*
Markers, Feature, Turntable, Manual, Turntable coded targets
Markers, Feature, Manual align
Texture scan
No
Yes (With purchase of Color Pack}
Yes (With purchase of Color Pack}
Yes (With purchase of Color Pack}
Outdoor Operation
No (Avoid direct sunlight)
Special Scan Object
For a transparent, reflective or dark object,
please powder spray prior to scanning
Single Scan Range
210×150 mm
Light Source
White light LED
Printable Data Output
Yes
Data Format
OBJ,STL,ASC,PLY
Turntable Loading Capacity
5 kg
Scan Head Weight
0.8 kg
OS System Support
Windows 7, 8 or 10, 64 bits
Sharing to Sketchfab
Yes
Display Card
NVIDIA GTX660, or higher, Display memory > 2G, Processor: 15 or higher, Memory Storage: 8G or more
---
Capture real word data to convert into digital 3D models

Research & Design

Computer Graphics

Preservation of Historic Artifacts

Art

Body Scanning

Education
---
Need help with EinScan-Pro?
DTS is the authorized partner of Shining 3D in Singapore & Malaysia.
Speak to our representative!
With more than 15 years of experience in PLM solution, our consultants and engineers are equipped with great skills and knowledge and ready to help.